February 28th, 2014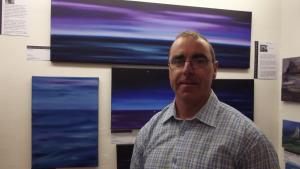 I,m excited to be exhibiting two new series of paintings at this great gallery in the center of Newcastle, England.
Five paintings in a series "Serenity" that was inspired by my need to relax and just paint for the sake of painting during a difficult part of my life.
Also a growing series of greyscale countryside landscapes inspired by my new home in the countryside.
Thses images can be found on my FAA page titled New Artwork.
Please have a look.
Thanks Ken.
July 10th, 2012
Some old footage of my lifestyle befor art.
October 30th, 2011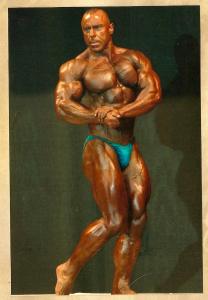 Gym owner Ken Clarke has made a surprise move from champion weightlifter to successful artist.

In an unusual career move he has swapped body building for painting.

The 43-year-old from Felling, Gateshead, discovered his sensitive side when he took up drawing to unwind after the stresses of competing.

But his pastime has developed into a passion and now Ken is busy preparing for his first exhibition at the Art Works Galleries at Stepney Bank, Ouseburn, Newcastle.

To the shock of fellow bodybuilders at Atlantis Fitness in Felling, Ken is more often found painting than pumping iron in a studio at his gym.

Now the former Mr Britain, Mr Europe and Mr Universe is even considering giving up competing altogether, to focus on his artwork.

"I started sketching in 2006 and everything has progressed quite rapidly. said Ken, whose wife Lisa, 40, is also a bodybuilder. "I didn't compete last year and I'm not competing this year. I've been doing it for 22 years and I think it was just time for a break.

"My wife and I both went to Russia to compete in the world championships and I'm glad we did that. But I feel I need some rest. I'm really excited about the exhibition. They said it's not usually the kind of thing they take, but that it would be an interesting contrast."

Gift shop Puddytigger in Tynemouth, North Tyneside, is already stocking Ken's paintings, and he has had to quickly learn about mounting and framing his creations. His exhibition at the Art Works Galleries is unveiled on April 2.

"Most of the lads don't know what I'm doing," said Ken, who has a daughter Lara, 17. He said: "Sometimes they smell the paint and ask what I'm doing, and I'll just say I'm spraying an old dumb bell!

"At first my wife wasn't sure about the paintings. They are nearly all of the female body. Some people might say they are a little bit rude but I would say they are a representation of the female form.

"But now my wife will give comments on things like the hair, which is helpful."